In addition to dendritic cell vaccine therapy, we aim to provide the best cancer treatment for each and every one of our patients with an effective combination of Natural Killer Cell Therapy and/or Lymphokine-Activated Killer Cell Therapy(alpha-beta T-cell therapy).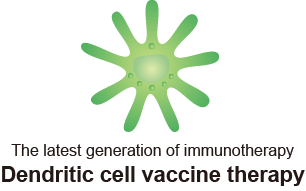 Dendritic cells are immune cells that function as commanders giving the tumor information to soldier lymphocytes attacking cancer. In dendritic cell vaccine therapy, cells (monocytes) that are precursors for dendritic cells are extracted from the patient's blood and artificially grown into dendritic cells. These cells are then taught with cancer cells and artificial antigens, both of which serve as cancer markers. Once they are injected back into the patient's body as a vaccine, the dendritic cells teach the cancer markers to lymphocytes so that they attack only cancer cells. Dendritic cell vaccine therapy makes use of the human immune system, reducing the burden on the patient's body and causing fewer side effects, and it can attack cancer very effectively.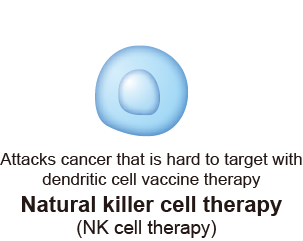 Natural Killer (NK) cells attack virus-infected cells and cancerous cells, and have disease-prevention functions. NK cell therapy is an immunotherapy that enhances direct attack on cancer cells by proliferating NK cells.

The combination of NK cell therapy and dendritic cell vaccine therapy is thought to be ideal, because NK cells can attack cancer cells that are hard to target with dendritic cell vaccines (cancer cells that escape destruction by T cells commanded by dendritic cells).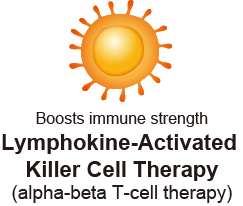 Lymphokine-Activated Killer Cell Therapy is a treatment method in which lymphocytes are extracted from the blood, activated outside the body to kill cancer cells, and then returned to the body. A cancer cell is surrounded and attacked by a great number of lymphocytes, so this treatment method can be effective against not only a specific cancer, but also any type of cancer antigen. This therapy was first introduced about 20 years ago, and it has obtained results in preventing the progression of cancer in about 20% to 30% of patients with recurrent skin or kidney cancer. Combined use with dendritic cell vaccine therapy is expected to produce synergistic effects by utilizing the advantages of both treatments.